Reddi Environmental provides complete septic tank and lagoon services in Kansas. Septic systems and lagoons require regular maintenance to ensure proper operation. Poor maintenance can lead to code violations, system damage, and health hazards. If you're experiencing bad odors, heavy overflow, clogs, or other issue, we can help. Our lagoon services include:
Lagoon Installation
Sludge Removal
Erosion Control
Fence Installation
Lagoon Reshaping
Inspections
Lateral Line Repairs
Septic System Repairs
Kansas Lagoons
If you have a lagoon in Wichita or Sedgwick County, proper maintenance is required. For example a four foot high fence is required. The county also requires basic maintenance to ensure proper performance. As bacteria breaks down waste, plants, trees, and tall grass can create issues. Mowing shorter than six inches around the embankment, keeping a water level of 18 inches above the sludge, and removing plants from the area is required. Note these requirements are subject to change. Check with you local municipality to ensure your lagoon is compliant.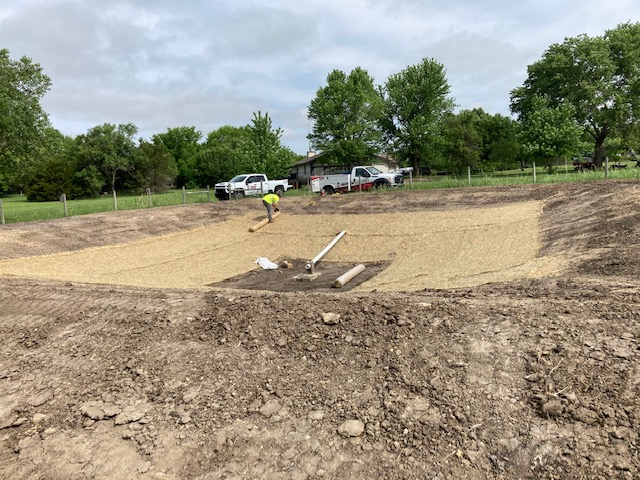 Lagoon Sludge Removal
If your lagoon is overflowing, if it has lots of debris, or if you have heavy algae and/or cattail growth, your system may need sludge removed.
Our sludge removal service is available in the Wichita area, as well as central Kansas and surrounding areas.
Lagoon Installation and Reconstruction
If your property needs a new lagoon or a major reconstruction, Reddi Environmental has a dedicated team of experts who can help. From excavation and shaping, to erosion control and fencing, we handle everything to ensure safe, efficient, and compliant operation. We also provide service for septic tanks and plumbing. If you have a septic or lagoon project, get in touch for an estimate.