Environmental Services in Kansas
We provide comprehensive environmental services in Wichita, Kansas and the Midwest. With more than 40 years of experience, our highly trained technicians operate one of the largest environmental fleets in the U.S. We provide safe, cost-effective solutions designed to reduce risk, ensure compliance, and improve productivity. Our environmental services include:
Solid, Semi-Solid and Liquid Waste Service
Waste Removal and Treatment
Wet & Dry Vacuum Pumping
Non-Hazardous Spill Response
Sludge Dewatering
Industrial Waste Disposal
Tank and Pipe Cleaning
Stormwater Service
Drum Removal & Treatment
Environmental Sampling and Analysis
Liquid Transportation
Hydro Jetting
Waste Cleanup, Transportation and Treatment
Reddi is one of the top environmental services in the Midwest. We offer 24/7 emergency service. For specialty cleaning, industrial waste, and environmental management, don't worry, call Reddi.
In addition to environmental consulting, we provide service for:
Grease and Mud Trap Cleaning
Industrial, Agricultural, and Manufacturing Waste Treatment
Refinery Product Line Cleaning
Clearing Power Plant Fly Ash Lines
Coal and Grain Dust Cleaning
Pipeline Pigging
Chemical Spill Clean-up
Solid, Semi-Solid and Liquid Waste Removal and Disposal
Lagoon Sludge Removal and Lagoon Reshaping
Water Jetting (4-10K Jetters)
Hydro Excavation
Clean Water Transportation
BMP Stormwater Service
And More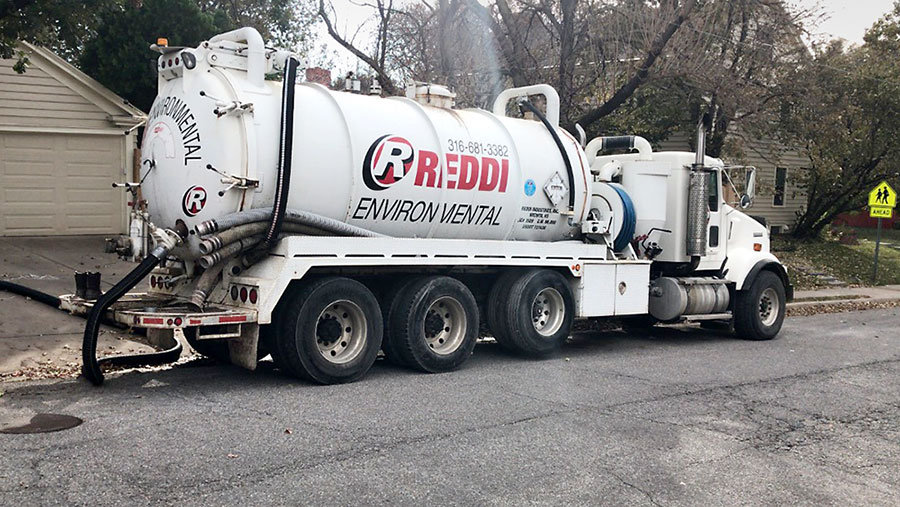 Environmental Contractor Serving Wichita and the Midwest
We offer planned maintenance and emergency service throughout Wichita, Kansas and the Midwest. We typically have industrial and commercial technicians on-call 24/7. If you have a chemical spill, clogged pipe, damaged tank, or environmental waste that needs treated or transported, give us a call.
From industrial waste and environmental cleaning to treatment and disposal, our expert team is ready to help. Industries we serve:
Municipalities
Aerospace
Pipeline, Oil and Gas
Manufacturing
Restaurant & Commercial
Agricultural, Mills & Co-ops
Car Washes
Construction and Excavation
Food Processing Plants
And More